This section provides information around current notices of disposition by the City, Official Community Plan (OCP) Amendments, Zoning Amendments, Bylaw Amendments and other required advertising as legislated by the Community Charter. Information in this section changes regularly, so please check back often for the latest.
If you have questions or require additional information, please contact:

Marnie Dueck
Municipal Clerk / Corporate Officer
City of Cranbrook
---
NOTICE OF DISPOSITION
Pursuant to the authority of Section 26 of the Community Charter, the City of Cranbrook intends to enter into a Lease Agreement with 1183354 BC Ltd. for land at the Canadian Rockies International Airport located at 9370 Airport Access Road, Cranbrook, B.C., legally described as: Parcel 10 on Plan crb-001.dgn dated 12 April 2000, and consisting of approximately 1563.0 m2. The Lease shall be for a five-year term from April 15, 2019 to April 14, 2024 with three (3) five-year renewal options.
In consideration of the Lease, 1183354 BC Ltd. shall pay to the City of Cranbrook an annual least rate of $3,791.16, (incl. annual maintenance charge of $625.20), and fuel concession fees for aviation gasoline, turbine fuels and engine crankcase lubricating oil sold or otherwise distributed by the Tenant.
City Clerk
---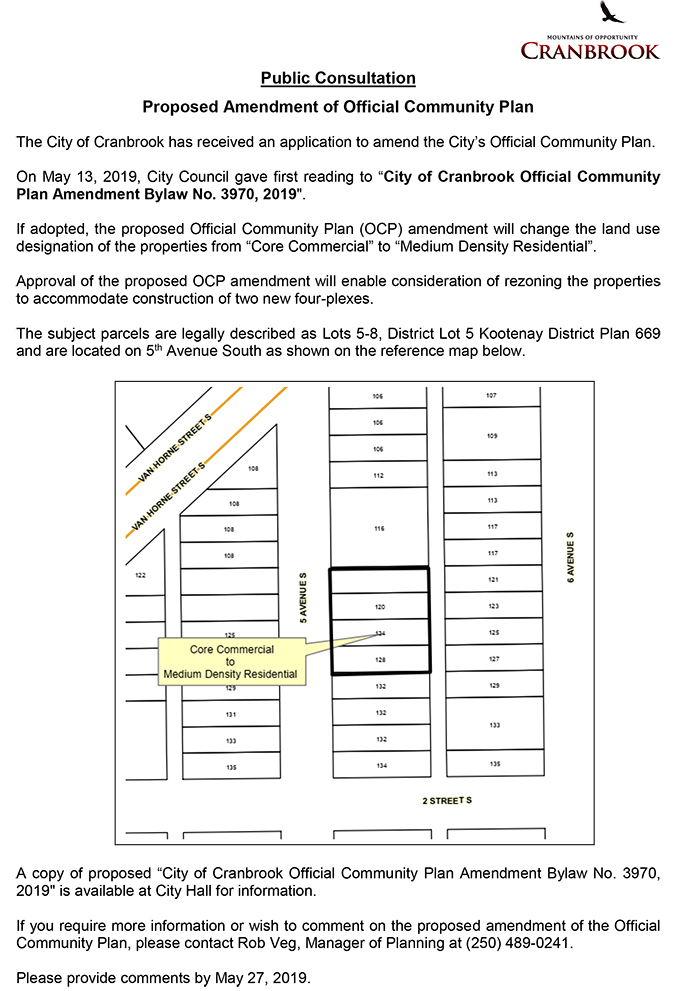 ---
---